Fabrice de Villeneuve Limited Edition Canvas Giclee Prints
**

SALE!

We regret that we have discontinued special order prints of this artist's work. Sales will be limited to stock on hand. To date we have been unable to rectify a number of manufacturer service issues, which have caused us difficulty in representing this line to our satisfaction.
See below for remaining images in stock --

all being sold at 50% off regular prices

. Contact us for sizes and prices.**
We are pleased to carry this line of beautiful stretched canvas art prints by one of the most popular artists in North America.
High quality inks are used to reproduce the paintings of Fabrice de Villeneuve onto canvas. Signed and numbered, they are offered in limited editions of 995 and arrive with a certificate of authenticity.
Most images are offered in several sizes to fit your space. Optional oil paint texture enhancement is available to give your print the look and feel of an original oil painting for a fraction of the cost -- see below for details.
Gallery Wrap:

The printed canvas is wrapped around a 1.5" deep wooden stretcher, which brings the image out 1.5" from the wall. The outside front edge of the image is duplicated to the sides of the stretcher, so that there is no image loss even thought it appears to continue from the front of the print to the sides. Gallery-wrapped prints can be framed (no glass is needed), or can be hung as is. They are lightweight and hang easily with just a nail.

Canvas Texture:
The image at left shows a close-up of a normal giclee print on canvas. You can see the canvas provides a definite texture as opposed to a print on paper. Click to enlarge.

Oil Paint Option:
The same image with oil paint option. Paint is hand-applied in select spots on the canvas for dimension and added texture, giving it the appearance of an original oil painting. Especially suited to floral images, the flower petals seem to pop off the canvas -- it's a beautiful and stunning enhancement to the canvas print, at an affordable price. Price varies depending on the size print being ordered. Click to enlarge.
---
Remaining Inventory:




Florals below available in 12" x 12" size, 1.5" deep, (each piece),


With Paint Texture upgrade, Reg $70 each, now $35 each.
Sold separately: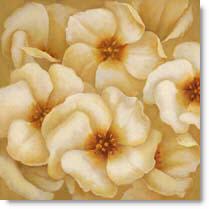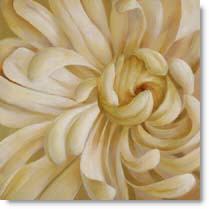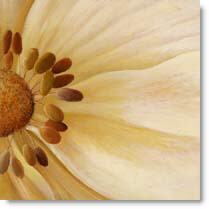 Narcissus in Window approx 9" x 12", Reg $36, now $18: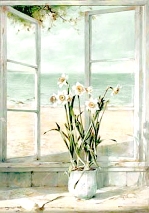 Champs Elysees - 20" x 32" - Reg $115, now $58: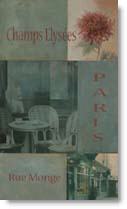 Railroad Prints Available in 2 sizes
9" x 12" - Reg $35 each, now $18 each
12" x 16" - Reg $55 each, now $28 each
Paris Cafe prints, 12" x 16", Reg $55, now $27 each:
Animal prints by Gosia Gajewska available in 16H x 20W, Reg $75, now $37 each: